13 STEPS TO CLOWN MAKE-UP
By King Royal Circus's SQUEEKY aka. Robert Noel Clarkson,
author of "Making Clown Wigs" in the Best of Clowning Around and other articles.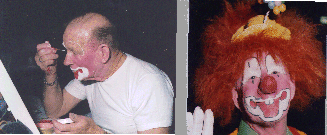 Shriner Clown Making Up for Competition (Clarkson Photos)
Wash face and dry it completly
Apply Clown White to White Areas
Powder the White Area
Wait one minute
Brush off Excess Powder
CUTOUT - Remove White from Colored Areas in White using oil on Q-Tip
Apply Colors to colored areas with Make-up Brush and/or Pro-Liner
Powder Whole Face
Wait one minute
Brush off Excess Powder
Outline Colored Areas with Pro-Liner Pencils
Powder Face & Brush as before *
Dress in Costume, wig, & hat.
* Some Clowns Splash face with cold water and gently dry their face with a soft towel after the last powder to make face color brighter.
For best results use MEHRON Brand Make-up & Supplies.
---
REMOVING MAKEUP
Always use Vegetable Oils Cooking Oil to remove make-up.
Mineral oils may remove Vitamin D and cause skin damage.
TIP: Fill an old gym sock with Johnson&Johnson Baby Powder for powdering clown make-up. Keep it stored in a ziplock bag.
However for a better looking face use Mehron<tm> Translucent Setting Powder
---
---
website
© Robert Noel Clarkson 1996
401 North Hoback Street
Helena, Montana 59601